CFS Foundation donates to Clarks Grove Fire Department
---
CFS Foundations donates $5,000 for new turnout gear to Clarks Grove Fire Department.
Jeff Eckhardt, CFS Board Director, stopped by the Clarks Grove Fire Hall to deliver the requested funds to help purchase new turnout gear.
"As a cooperative business, CFS is committed to our communities and appreciates the volunteers that serve on our local fire and rescue departments," says Jeff Eckhardt, CFS Board Director. "They are a vital part of keeping our communities safe, and this contribution will help ensure that they have the equipment they need to handle emergencies as they arise."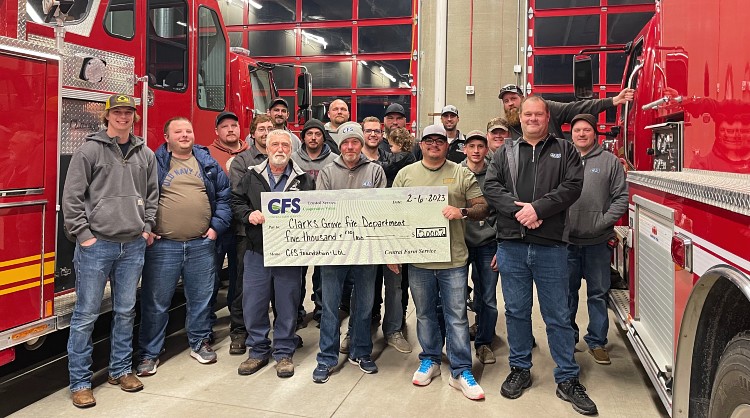 Pictured from L to R:
Back row- Blake Peterson, Jesse Quam, Andy Rolands, Cody Boverhuis, Aaron McCornack, Steven Thisius
Middle row- Aaron Bauers, CJ miracle, Noah Krell, Tyler Caron, Dustin Knutson, Logan Vietze, Simon Jacobusse, Justin Hove
Front row- Marv Thompson, Dennis Adams, Davy Villarreal, and Jeff Eckhardt, CFS Board Director
*Funds donated by CFS Foundation along with matching funds from CoBank.
Read More News
CFS to Hold Feed Mill Open House Event on September 6, 2023
Please join us as we celebrate the opening of our new feed mill in St. James. We are excited to provide mill tours with our experienced staff and guides, we are eager to share information about our new facility and it's fit for the industry and the community. Join us after for a pork chop dinner and a chance to meet with other members of the CFS team.
Truckload Sale
Highlights as of 5/16:
Corn:
Planting and weather conditions are the name of the game currently. With planting progress looking very favorable and the weather forecast showing above normal temps and below normal precipitation for much of the corn belt all signs point to very good planting conditions. With that, we gave up yesterday's gains on old crop and put in some new lows on December corn.